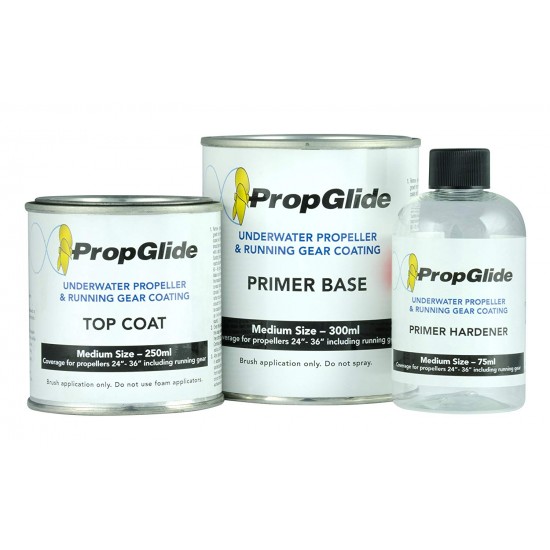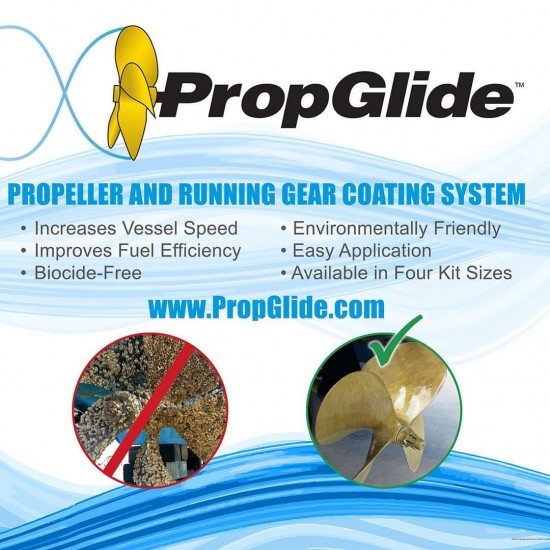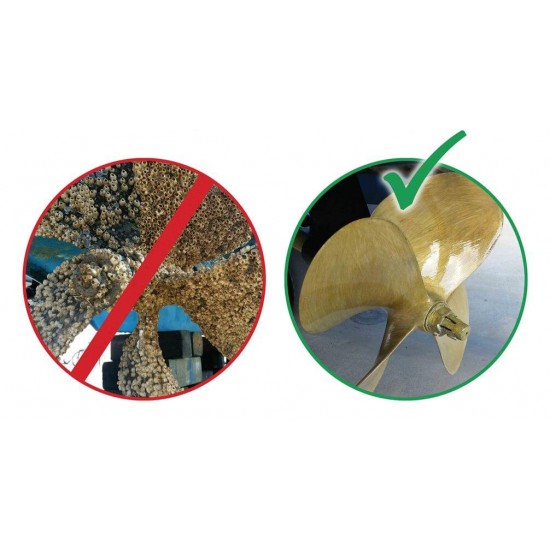 New



PropGlide Medium Kit - 625 ML
Stock:

2

Brand: PropGlide
Model:

PCK-625

Weight:

1.00kg

Dimensions:

23.00cm x 18.00cm x 13.00cm
Are you frustrated by fouled propellers and running gear?
Do you have to hire a diver to clean your propellers before your next boating trip?
Imagine cleaning your propellers and running gear by simply driving your boat -
It's just that easy with PropGlide !
How does it work?
PropGlide is a super slick coating which is designed to keep marine growth from getting a firm attachment to your propellers and running gear.
It is not an anti-fouling coating, and does not contain any biocides, so it is environmentally friendly.
Instead, it is actually a foul release coating designed to shed marine growth with the water pressure developed while you drive your boat.
How long does it last?
A properly applied and maintained coating of PropGlide will continue to release fouling as long as the surface remains smooth and slick.
Here are some helpful tips to maintain the coating:
Run the boat in gear at least once a month to remove growth accumulation.
Run the boat in gear more frequently during times of rapid growth.
Do no use scrub pads, scrapers, or coarse brushes to clean the coating. Use a cloth or soft sponge to wipe the fouling off.
If you are using a diver to clean your boat, make sure the diver is aware of the coating and how to clean it.
Avoid running in shallow water where sand and gravel can damage the coating.
Eventually the surface will loose it's luster from normal wear and tear, giving the fouling a better surface to grip onto.
The amount of time this takes varies depending on a lot of factors, but usually the coating will last up to 2 seasons with normal use and proper maintenance.
What can I coat with PropGlide?
PropGlide is designed to coat underwater metals.
Aside from propellers, it can be used on prop shafts, shaft struts, rudders, and trim tabs.
It is also be effective on sail drives, stern drives, and pod drives.
What can I expect after applying PropGlide?
You will experience that "clean propeller" performance all season long.
No more excessive fuel usage, overloaded engines, and poor speeds due to fouling accumulation.
Savings on diver cleaning during the rapid growth seasons.
Contents
Primer Base
300 ML
Primer Hardener
75 ML
Clear Top Coat
250 ML
Application Instructions
included