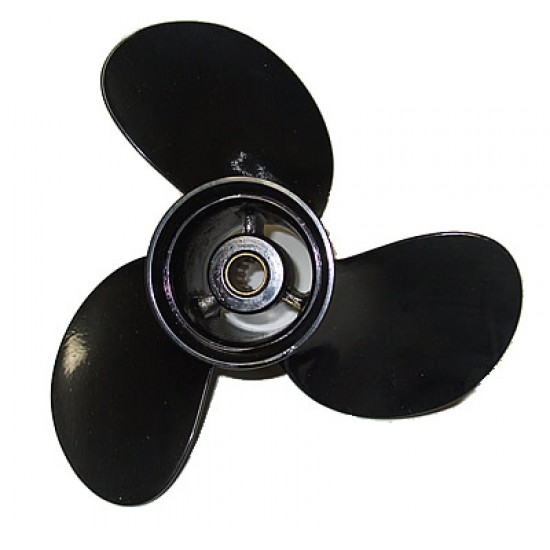 Out Of Stock
Tohatsu/Nissan 8 1/2 x 8 BSPro
Size: 8 1/2" X 8"
Three blade aluminum propeller.
Thru hub exhaust
Pressed in rubber bushing with 12 tooth spline.

The propellers listed below will fit the following Tohatsu / Nissan engines:
8hp 2 stroke
All years
8hp 4 stroke (MFS8)
All years
8hp 4 stroke (NSF8)
All years
9.8hp 2 stroke
All years
9.8hp 4 stroke (MFS9.8)
All years
9.8hp 4 stroke (NSF9.8)
All years
Mercury 8hp 4 stroke
2005 and newer


Propeller comes with 1 year warranty against manufacture defects.
Dimensions
Diameter
8 1/2 inches
Pitch
8 inches
Rotation
Right hand
No. of Blades
3
Material
Aluminum
Proprietary grade of cast aluminum, which is more malleable than other propellers. This means the propeller is more likely to bend than break from an impact.
Finish
Powder Coat
High gloss black
Bore
Rubber Drive Hub
Pressed in rubber drive hub with silicone bronze spindle. 12 tooth spline. Always apply grease to the propeller shaft.